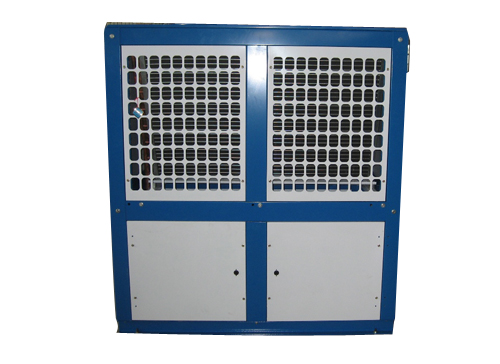 Product use
FNM air-cooled condenser is a suitable for outdoor, semi-closed and totally enclosed compression matching one-piece condenser. So the heat exchange area from 80-320 m2. Compact structure, low noise, easy installation, good heat exchange effect. Widely used in agriculture, food and restaurants, chemical industry etc.
Features
1 case, phosphating and secondary pensu processing, convenient and clean, highly anticorrosive, beautiful shape, can be selected according to user requirements iron plate, galvanized sheet, embossed aluminum sheet and material such as stainless steel plate.
2, 12, 16, Ø Ø coil can be selected according to the requirements of customers. Set piece, through mechanical or hydraulic up tube aluminum fin tightly wrapped in copper tube, reduce the contact thermal resistance, improve the efficiency of heat transfer.
3, after testing the products, then after cleaning tube, to thoroughly remove oil pipe, water and scale, etc.
4, electric heating tube spacing and power is calculated, thus ensuring efficient cream.
5, using special motor, in order to keep the air cooler under the low temperature wet state can run properly. In addition, can choose according to the needs of the user adaptation of explosion-proof motor.
6, stainless steel tank type hanger, convenient installation.
7 all through pressure maintaining nitrogen inflator, before shipment.
Product performance parameters
model
Refrigerating capacityKW
Heat transfer area
m2
Fan parameters
Inlet pipe
φmm
The liquid pipe
φmm
Overall dimensions
The fan diameter
φmm
Fan power
W
speed
m2
Air volume
m3/h
L
B
H
D
D1
H1
FNM-80
29.7
80
450
2*273
1270
9000
19
16
1320
790
1420
1120
750
715
FNM-100
37.2
100
500
2*471
1250
13000
22
19
1450
865
1460
1250
825
665
FNM-120
44.4
120
500
2*471
1250
13000
22
19
1450
950
1550
1250
910
665
FNM-140
51.8
140
550
2*614
1320
17200
25
19
1600
950
1700
1400
910
815
FNM-150
55.5
150
550
2*614
1320
17200
25
19
1740
950
1700
1540
910
815
FNM-160
57.8
160
550
2*614
1320
17200
25
19
1600
920
1610
1400
880
815
FNM-180
66.5
180
600
2*708
1305
20000
28
22
1600
1050
1700
1400
1010
815
FNM-200
74.1
200
600
2*708
1305
20000
28
22
1740
1050
1700
1540
1010
815
FNM-220
79.5
220
600
2*708
1305
20000
28
22
1880
1050
1700
1680
1010
815
FNM-260
87.5
260
550
3*614
1320
25800
28
22
2160
1050
1700
1960
1010
815
FNM-280
103.5
280
700
2*1010
910
32000
28
22
2310
1050
1700
2110
1010
815
FNM-300
111.1
300
700
2*1010
910
32000
28
22
2460
1050
1700
2260
1010
815
FNM-320
118.5
320
700
2*1010
910
32000
28
22
2460
1095
1740
2260
1055
815