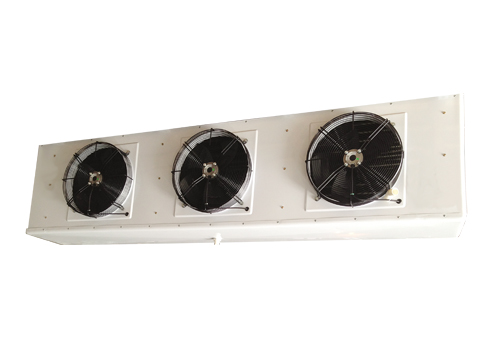 Product use
Air cooler (also known as the cooling fan) is a kind of suitable for all kinds of cold storage, DL type air cooler cooling equipment Applicable to library temperature above 0 ℃ cold storage, cold storage such as preserved eggs or vegetables.
Product features
1 case, phosphating and secondary pensu processing, convenient and clean, highly anticorrosive, beautiful shape, can be selected according to user requirements iron plate, galvanized sheet, embossed aluminum sheet and material such as stainless steel plate.
2, 12, 16, Ø Ø coil can be selected according to the requirements of customers. Set piece, through mechanical or hydraulic up tube aluminum fin tightly wrapped in copper tube, reduce the contact thermal resistance, improve the efficiency of heat transfer.
3, after testing the products, then after cleaning tube, to thoroughly remove oil pipe, water and scale, etc.
4, electric heating tube spacing and power is calculated, thus ensuring efficient cream.
5, using special motor, in order to keep the air cooler under the low temperature wet state can run properly. In addition, can choose according to the needs of the user adaptation of explosion-proof motor.
6, stainless steel tank type hanger, convenient installation.
7 all through pressure maintaining nitrogen inflator, before shipment.
Product performance parameters
Model
Refrigerating capacity R22 Capacity DT=7K 
The evaporation area Surface  
The pipe volume  
Fan parameters 3-380VFans Data
Electrical defrosting
The weight of the N.W
Diameter
SinglePower
Airflow
Airthrow
Noise
Coil
Tray
Total
kW
m2
dm3
mm
W
m3/h
m
dB(A)
kW
kW
kW
kg
DL-2.1/10
2.1
10
0.88
1×300
75
1220
9
58
0.6
0.6
1.2
20
DL-3.1/15
3.1
15
1.53
2×300
75
2440
9
58
0.9
0.9
1.8
28
DL-4.2/20
4.2
20
1.77
2×300
75
2440
9
58
1
1
2
35
DL-5.2/25
5.2
25
2.26
3×300
75
3660
9
58
1.2
1.2
2.4
42
DL-8.2/40
8.2
40
3.23
2×400
180
6800
12
68
1.4
0.7
2.1
65
DL-11.5/55
11.5
55
4.31
2×400
180
6800
12
68
1.8
0.9
2.7
72
DL-16.7/80
16.7
80
6.39
2×450
250
9600
15
68
2.4
1.2
3.6
97
DL-22.0/105
22
105
7.99
2×450
250
9600
15
68
3.2
1.6
4.8
106
DL-25.8/125
25.8
125
10.53
3×450
250
14400
15
68
3.8
1.9
5.7
140
DL-33.6/160
33.6
160
12.72
3×450
250
14400
15
68
4.6
2.3
6.9
160
DL-38.7/185
38.7
185
14.86
4×450
250
19200
15
68
5.4
2.7
8.1
195
DL-44.0/210
44
210
16.79
4×450
250
19200
15
68
6
3
9
208
DL-52.9/260
52.9
260
45.73
2×600
1500
20000
17
72
9
1.8
10.8
296
DL-67.2/330
67.2
330
57.34
3×600
1500
30000
22
73
11
2.2
13.2
376
DL-83.4/410
83.4
410
68.48
3×600
1500
30000
22
73
13
2.6
15.6
435
DL-95.5/475
95.5
475
81
3×700
2200
48000
22
72
16.5
2.5
19
585
DL-117.0/580
117
580
100
3×700
2200
48000
22
75
20
3
23
625
DL-140.0/695
140
695
117
4×700
2200
64000
22
75
24.5
3
27.5
750
DL-161.0/795
161
795
135
4×700
2200
64000
22
75
28
3
31
770
Installation and overall dimensions